Deciding that you want to juice is a great first step. But with so many different juicers on the market, you are probably left wondering – Which juicer is right for you?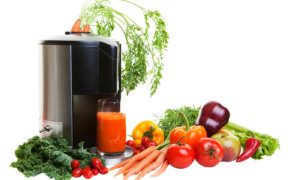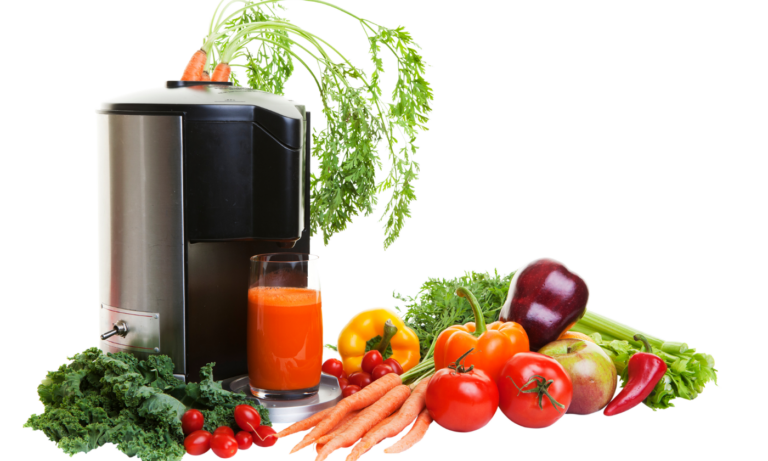 The simple answer is that the best juicer is the one you will use daily.
For most people, the argument revolves around juice quality and yield vs. convenience and ease of use. So to make sure you are picking the juicer that you are most likely to use effectively and consistently, you should consider the following: Juicer size and Storage, Speed, Ease of use/Cleanup, Juice yield, and Price point.
Though individual machines may have different special features, their basic functions will come down to one of these three: Centrifugal, Masticating juicer machines, or Triturating (twin-gear). Here's a quick breakdown of each:
What is a Masticating Juicer
Also called 'slow' or cold press juicers, masticating juicers mimic "chewing" fruits and vegetables by using augers with sharp metal teeth. This slow juicer technique results in higher juice yield, superior nutritional quality, and very little foaming. It is also a more efficient way to break down plant cells and membranes to release the nutrition they hold.
The masticating juicer's stronger motors do come at a higher cost and are slightly slower than centrifugal juicers, but they might be worth the investment for serious juicers. Slow masticating juicers are good for juicing a wider range of produce, including leafy greens, which are important to include in a cancer-fighting diet. They also produce better juice quality and extend the shelf life of the juice.
The Best Masticating Juicer , Cold Press:
This Omega masticating juicer is a great all-rounder that's precision-engineered and built to last. It is quiet and can take on wheatgrass, fruit, vegetables, and leafy greens. As a bonus, it doubles up as a spices grinder and can also make great nut butter and milk.
[27-button href="https://amzn.to/3bRwyI4″ style="2″ animated="no"]Check Price>>[/27-button]
The Homever masticating juicer is very user-friendliness and has a great balance of value, quality, and high levels of juice extraction.
[27-button href="https://amzn.to/3CVwHWA" style="2″ animated="no"]Check Price>>[/27-button]
Triturating Juicers
Also known as twin gear or horizontal juicers, triturating juicers are technically a type of masticating juicer but come with two gears. These juicers use rotating twin gears to crush and grind the produce into very fine particles. The gears then push the juice out of the food bits, leaving behind very dry pulp and high-quality juice. They come with similar pros and cons to single auger masticating juicers, with slight differences. Triturating juicers can process almost any fruit or vegetable you put through it. They produce the highest juice quality with the longest shelf life.
These masticating juicers don't come cheap though and are therefore best for only the most serious of juicers. It's also important to note that triturating juicer takes up a lot of counter space and is heavy, so you wouldn't want to lug it around often. As a trade-off, many of these juicers are also capable of several other culinary tasks like grinding seeds and nuts and chopping vegetables.
This juicer features a heavy-duty twin-Gear impeller press system that ensures quiet operation and reduces friction and heat, thereby preserving all the essential nutrients of the juice and keeping it fresh longer. The Green Star Elite produces a high juice yield and can double up as a food mill so you can prepare sorbets, baby food, and nut butter.
[27-button href="https://amzn.to/3wv1Xcu" style="2″ animated="no"]Check Price>>[/27-button]
Centrifugal Juicers
Centrifugal Juicers extract juice by shredding the fruits and vegetables and then spinning out the juice through a fine-mesh sieve. These are the least expensive and the fastest juicers, and often the easiest to clean. On the flip side, these juicers are noisier and do not perform as well for juicing greens and soft fruits, such as berries.
Some claim that the heat produced in the spinning process breaks down enzymes and nutrients, reducing the juice's nutritional value. Don't let this scare you  – the high-speed juicers do not get hot enough to "cook" the juice, and in fact, enzyme activity has been found to be very high in juices from all different types of juicing machines (with some variance of course).
Another concern often voiced about centrifugal juicers is juice oxidation. It's important to note that oxidation occurs with all types of juicers, but the juice extracted from fast juicers tends to oxidize faster and, therefore, better when consumed freshly made rather than made in a batch and stored.
To summarize – centrifugal juicers can be a fast way to get nutrients in your body while staying budget-friendly and requiring minimal maintenance. The small compromise in the overall juicing performance is often acceptable in a busy household where juicing needs to happen quickly.
Best Centrifugal Juicer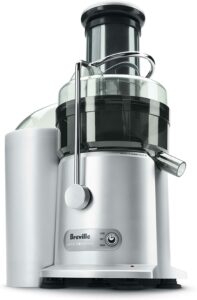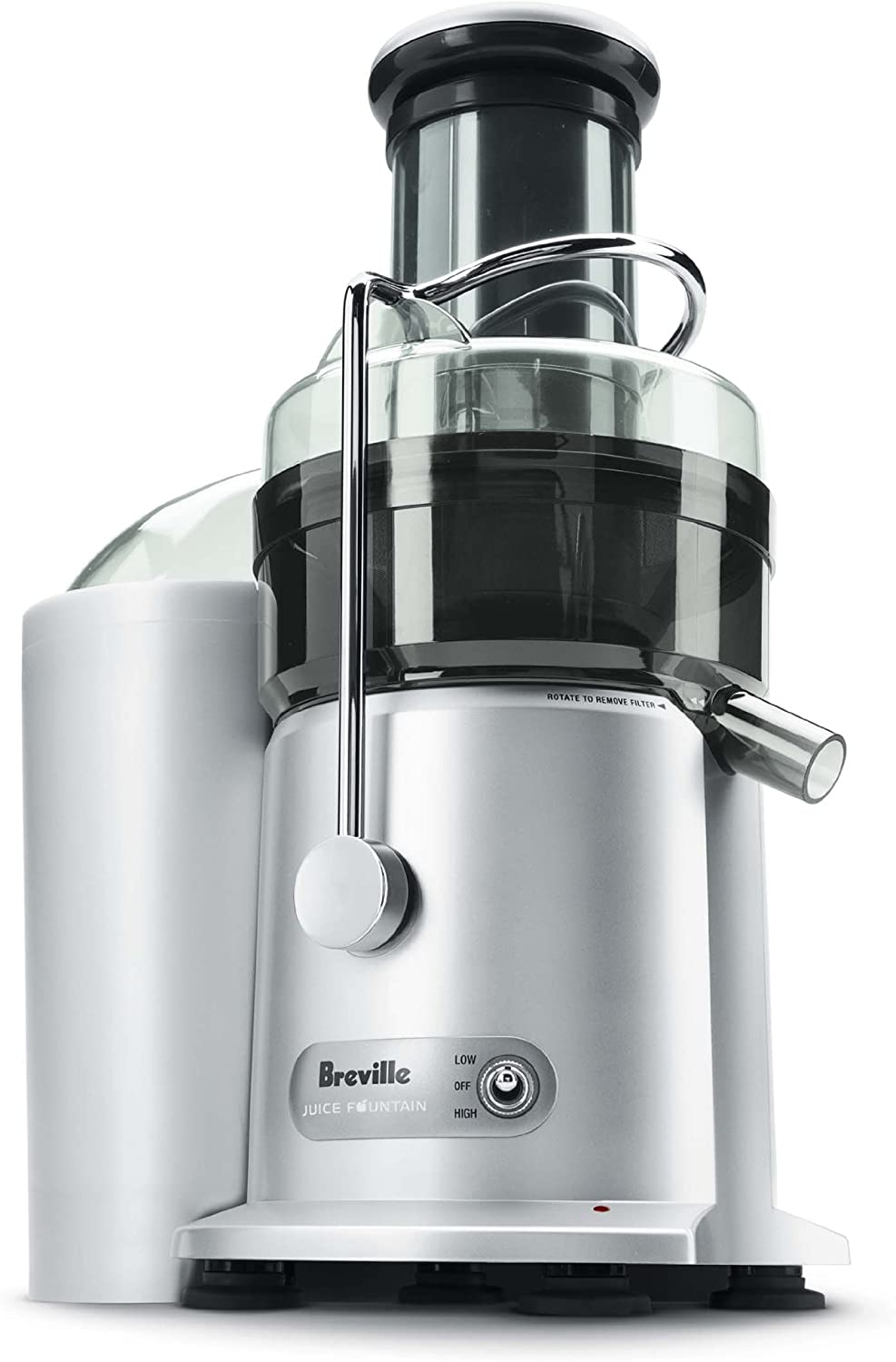 This centrifugal juicer features a 3-inch extra-wide fruit chute, dual speeds, lightning-quick operation, and simple clean-up. Considering the price, quality, and ease of use – the Breville JE98XL is the best overall centrifugal juicer to buy in 2021.
[27-button href="https://amzn.to/3wsLS7t" style="2″ animated="no"]Check Price>>[/27-button]
Mueller Austria Ultra Juicer is one of those affordable centrifugal juicers that will give you the best bang for your buck while producing good quality juice fast. Cons: It will only run continuously for one minute, then you'll have to cool it down for two minutes.
[27-button href="https://amzn.to/3BWX6SK" style="2″ animated="no"]Check Price>>[/27-button]
3. Breville Juice Fountain Cold XL: Premium Pick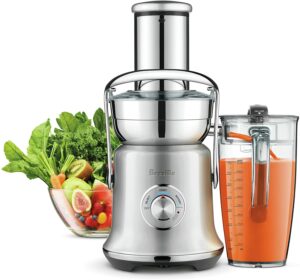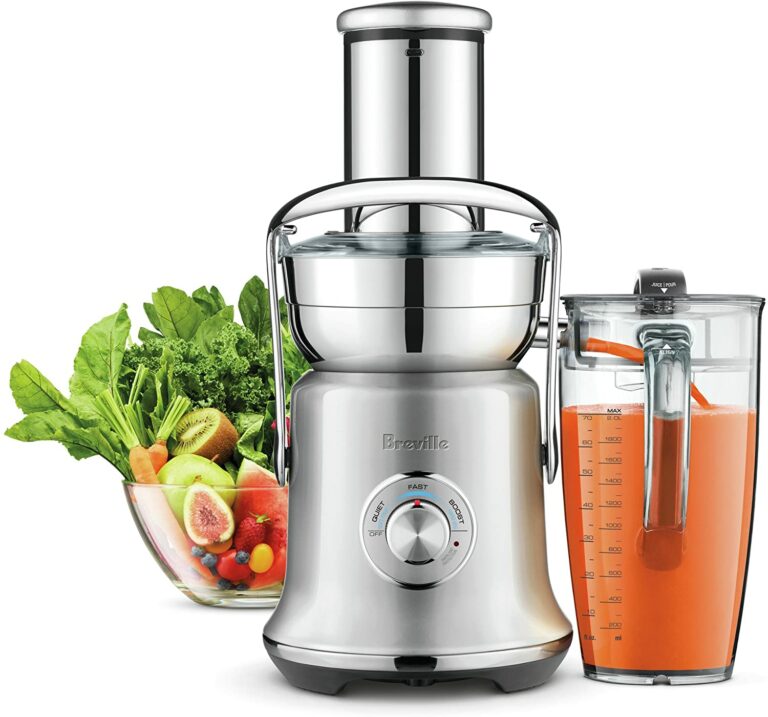 With its slick design, extra-large feeding chute, a large bin for collecting pulp, and cold spin technology – we can probably say the Breville Cold XL is the best centrifugal juicer on the market.
[27-button href="https://amzn.to/3bT2uf6″ style="2″ animated="no"]Check Price>>[/27-button]